Tận hưởng những trải nghiệm ẩm thực độc đáo, với sự kết hợp các món Á – Âu hoàn hảo, khách sạn Pearl River chắc chắn sẽ khơi nguồn cảm hứng ẩm thực, kích thích vị giác và nâng tầm phong cách sống cho thực khách sành điệu.
Đừng bỏ qua cơ hội thưởng thức những món ngon mỹ vị đỉnh cao của ẩm thực quốc tế bạn nhé!
Chương trình ưu đãi áp dụng đến hết ngày 31/3/2021 tại nhà hàng Jade và nhà hàng Châu Giang – khách sạn Pearl River.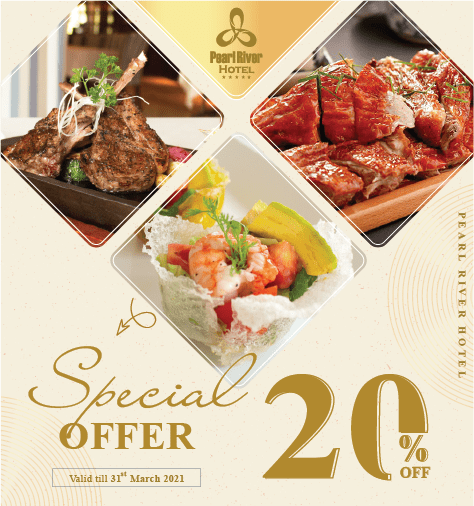 SPECIAL OFFER DISCOUNT 20%
Enjoying a unique culinary experience, with a perfect combination of Asian and European dishes, Pearl River Hotel is sure to inspire culinary passion, stimulate the taste buds and elevate the lifestyle
Don't miss the chance to enjoy the culinary delicacies of international cuisine!
The promotion is valid until 31st March 2021 at Jade restaurant and Chau Giang restaurant – Pearl River hotel.