Lấy cảm hứng từ "Dải Ngân Hà", năm nay, khách sạn Pearl River xin trân trọng giới thiệu tới quý khách chương trình 𝐆𝐀𝐋𝐀𝐗𝐘 𝐍𝐈𝐆𝐇𝐓 đặc sắc xua tan giá lạnh của mùa đông và chào đón mùa Giáng sinh ấm áp, tràn đầy yêu thương
️Hãy cùng ghi dấu những trải nghiệm đáng nhớ vào đêm Giáng Sinh bằng bữa tiệc độc đáo:
– Thưởng thức dạ tiệc buffet Âu Á tinh tế với nhiều món ăn thượng hạng.
– Hòa mình vào giai điệu âm nhạc lôi cuốn từ giọng ca Quang Long và đoàn ca múa Hải Quân.
– Lắng nghe những bản đồng ca Giáng sinh ngọt ngào và điệu nhảy sôi động của các em nhỏ Chương trình Giọng hát Việt nhí.
– Lưu lại những khoảnh khắc đẹp với ông già Noel và Công chúa tuyết.
– Bốc thăm những giải thưởng giá trị và phần quà hấp dẫn.
Đến với Khách sạn Pearl River ăn mừng mùa lễ hội cùng người thân với nhiều chương trình đặc sắc và sôi động thôi nào!
Thời gian: 18:00 – 21:00 Thứ 5 ngày 24/12/2020
Địa điểm: Tầng 2 – Khách sạn Pearl River
Giá vé người lớn: 𝟖𝟎𝟎,𝟎𝟎𝟎 𝐯𝐧đ/ 𝐧𝐠𝐮̛𝐨̛̀𝐢 (Trên 1.3 mét)
Giá vé trẻ em: 𝟒𝟎𝟎,𝟎𝟎𝟎 𝐯𝐧đ/ 𝐧𝐠𝐮̛𝐨̛̀𝐢 (1.0 – 1.3 mét)
𝐌𝐈𝐄̂̃𝐍 𝐏𝐇𝐈́ 𝐂𝐇𝐎 𝐓𝐑𝐄̉ 𝐄𝐌 𝐃𝐔̛𝐎̛́𝐈 𝟏.𝟎 𝐌𝐄́𝐓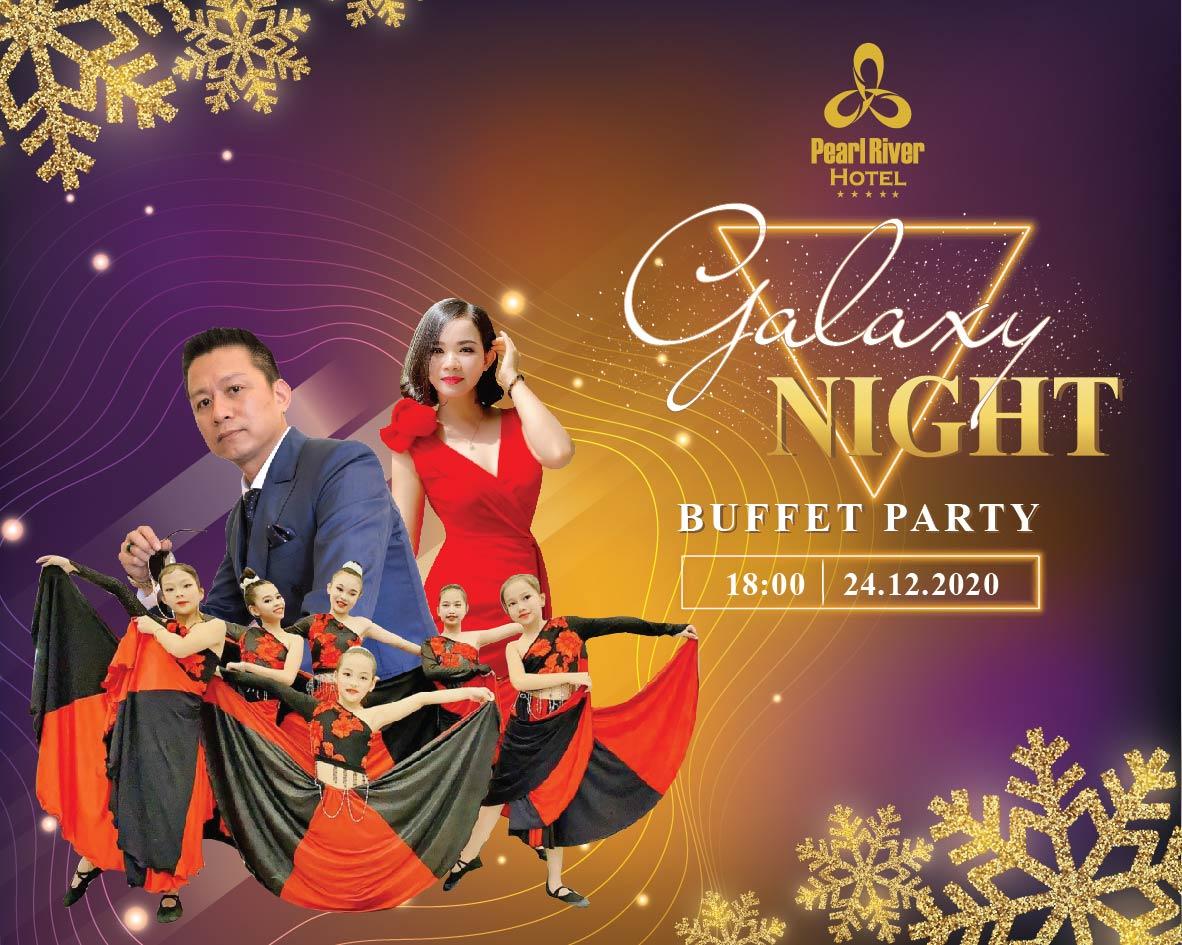 —————————————-
PEARL RIVER HOTEL- The perfection destination for this year's Christmas season
Inspired by "GALAXY", Pearl River Hotel will bring you a unique 𝐆𝐀𝐋𝐀𝐗𝐘 𝐍𝐈𝐆𝐇𝐓 program to dispel the cold of winter and celebrate a warm and loving Christmas as well.
In a cozy and sparkling space, together marking memorable experiences on brilliant Christmas Eve with unique party:
– Enjoying the exquisite Eurasian buffet with many premium dishes.
– Immersing yourself in the charismatic melody of music from singer Quang Long and Hai Quan dance troupe.
– Listening to the sweet Christmas chants and the exciting dance of the children from Vietnamese Singing Program.
– Saving beautiful moments with Santa Claus and Snow Princess.
– Drawing valuable prizes and attractive gifts.
Come to Pearl River Hotel to celebrate the festive season with your loved ones with many unique and exciting programs!
Time: 18:00 – 21:00 Thursday,24th December, 2020
Location: 2nd floor – Pearl River Hotel
Adult Ticket: 𝟖𝟎𝟎,𝟎𝟎𝟎 𝐕𝐍𝐃 / 𝐩𝐞𝐫𝐬𝐨𝐧 (Over 1.3 m)
Child Ticket: 𝟒𝟎𝟎,𝟎𝟎𝟎 𝐕𝐍𝐃 / 𝐩𝐞𝐫𝐬𝐨𝐧 (1.0 – 1.3 m)
𝐅𝐑𝐄𝐄 𝐅𝐎𝐑 𝐊𝐈𝐃𝐒 𝐔𝐍𝐃𝐄𝐑 𝟎𝟏𝐌