HAPPY VIETNAMESE FAMILY DAY
Gia đình là số 2, không ai là số 1
Bạn đã có kế hoạch gì cho ngày Gia đình Việt Nam 28/6 chưa?
Còn chần chừ gì nữa mà không gác lại những bộn bề của công việc để tận hưởng một kỳ nghỉ dưỡng thú vị, một chuyến du lịch trải nghiệm tuyệt vời hay một bữa ăn quây quần cùng gia đình.
Hãy cùng Khách sạn Pearl River tạo nên kỷ niệm đầy ý nghĩa với những người thân yêu.
ƯU ĐÃI CỰC SHOCK TỪ 22/6 – 28/6.
Dịch vụ lưu trú phòng nghỉ chỉ 2.299.000 đ net/ phòng, dành cho 02 người lớn và trẻ em (dưới 12 tuổi), bao gồm:
Ăn sáng miễn phí

Đồ uống và hoa quả chào mừng khách đến

Miễn phí giường phụ cho bé

Giảm 30% đặt từ phòng thứ 2

Miễn phí bơi, xông khô, xông hơi và bể sục

Tặng 01 chuyến xe đưa đón đi du lịch Đồ Sơn

Tặng voucher ưu đãi 30% dịch vụ bơi, 20% dịch vụ nhà hàng và spa cho lần sử dụng sau.
Ngoài ra, bạn có thể cùng gia đình thưởng thức set menu đặc biệt giá chỉ 380.000 đ net với nhiều món ăn ngon hấp dẫn:

Khai vị: Súp cua đặc biệt

Món chính (chọn 01 món): Cá hồi tươi Na Uy áp chảo hoặc Sườn cừu nướng hương thảo


Món ăn kèm: Salad bơ xoài kiểu Thái và Mỳ Ý nướng pho mai

Tráng miệng: Bánh rừng nhiệt đới.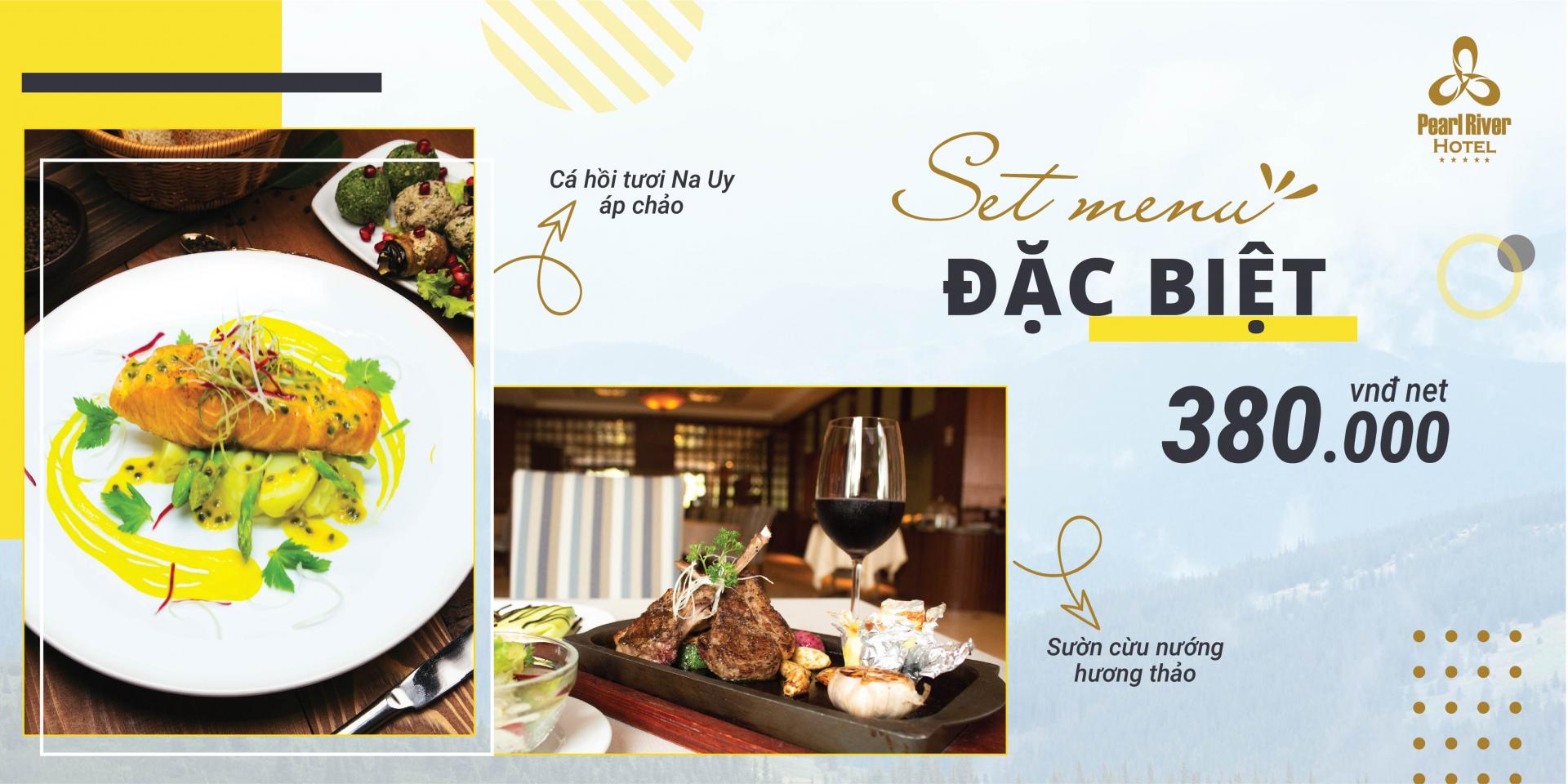 Family is not an important thing. It's everything.
Do you have any plans for Vietnamese Family Day on June 28th?
Donot hesitate to put aside the busyness to enjoy an awesome vacation, a great travel experience or a family gathering meal.
Let Pearl River Hotel and you create all the meaningful memories with your beloved ones.
EXTREMELY OFFER PRICE 
Only 𝟐.𝟐𝟗𝟗.𝟎𝟎𝟎 𝐯𝐧𝐝 𝐧𝐞𝐭𝐭 / 𝐫𝐨𝐨𝐦 for 02 adults and children (under 12 years old), including
 Complementary for breakfast

 Welcoming guests with fruit and drink

Free 01 extra children bed

Discount 30% when booking from the 2nd room

Free swimming, sauna, steam bath and jacuzzi.

Free 01 shuttle bus to Do Son

Giving voucher discount 30% for swimming service, 20% for restaurant & spa service for the next time.
Only 𝟑𝟖𝟎.𝟎𝟎𝟎 𝐯𝐧𝐝 𝐧𝐞𝐭𝐭 / 𝐬𝐩𝐞𝐜𝐢𝐚𝐥 𝐬𝐞𝐭 𝐦𝐞𝐧𝐮, including:
Appetizer: Special crab meat soup

Main dish (Choice of 01 dish): Grilled Norwegian Salmon Fillet or Grilled Lamb rack

Service with: Avocado mango salad and Spaghetti with mozarella cheese

Dessert: Vegas' favorite forest cake slice
𝐕𝐀𝐋𝐈𝐃 𝐓𝐈𝐌𝐄: 𝐉𝐮𝐧𝐞 𝟐𝟐nd – 𝐉𝐮𝐧𝐞 𝟐𝟖th